Moving into a nicer, larger house after selling your old one is an exciting prospect. After all, having extra space will bring greater comfort and give the potential to start fresh somewhere new.
When most people in the San Francisco area consider upgrading to a new home, they look toward Marin County. With a population of only 260,000, Marin County remains one of the least densely populated counties in the Bay Area. Its proximity to San Francisco makes it a great place to live in California.
If you're considering upgrading to Marin County, this guide is for you.
Know your budget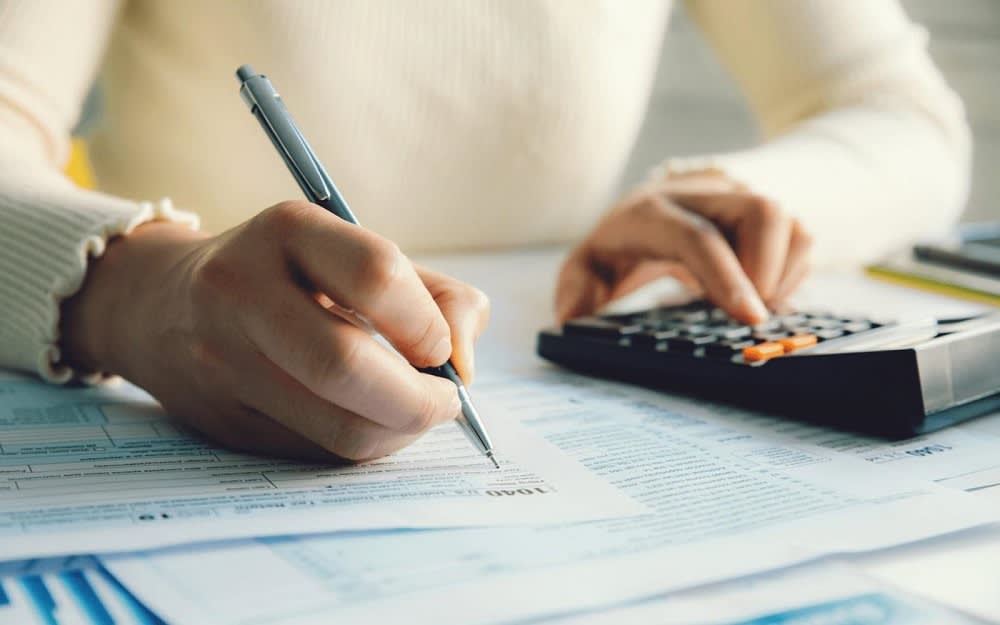 Whether you're shopping for your first home or your dream home, the very first step is to know your budget. While it can be fun browsing all the amazing properties in Marin County, you'll want to be cognizant of which homes are within your budget. Estimating the selling price of your current home and budgeting how much you can spend on mortgage payments is a great place to start.
If you're new to California real estate, you may be in for a sticker shock when it comes to
property taxes
. While the property tax rate is on average 1.11%, higher home values translate into higher taxes.
Surprisingly, California has lower-than-average homeowners insurance rates. Despite the unique risk of earthquakes and wildfires, the average cost of homeowners insurance in California is only
$1,139
per year as of August 2021. However, Marin County homes will likely be more expensive to insure than other areas in the state. However, the beauty is more than worth the investment.
Know what you want
It may sound obvious, but listing what you need and want out of your new home can make the home shopping process much easier. Wants and needs can range from the number of bedrooms, garage size, quality of the school district, gardening space, etc. Knowing the approximate square footage you'll need will also simplify the home searching process.
After knowing your budget and what you want in your upgraded home, it's time to start considering which part of Marin County you want to move to.
Towns in Marin County
Larkspur
The city of Larkspur can be described as quintessential Marin County. It has a small population of 13,000, and it's only a 30-minute drive to San Francisco when traffic is good. The small community is very family-centric, with numerous parks and playgrounds offering plenty of family activities.
Larkspur is an ideal place to live for nature lovers. Residents can see giant redwood trees on a daily basis. There are plenty of nearby trails where you can go hiking and exploring, most notably the neighboring King Mountain Open Space Preserve. The preserve offers 193 acres of the great outdoors.
Being such a small town, Larkspur merged with Corte Madera to create the Larkspur-Corte Madera School District. The district holds an A rating from
Niche.com
, a remarkable mark for the quality of academics and teachers.
Redwood High School is the only public high school in the area and is managed by a different school district. Nonetheless, Redwood High has an A+ rating from Niche. Larkspur also offers two alternative public high schools: Tamiscal High and San Andreas Continuation High School.
Corte Madera
Corte Madera is located directly next to Larkspur – or, as the locals put it, "just over the hill." It's also a small town with a population of just 10,000. The town has a longer history than others in the Bay Area, as most settlers arrived before the gold rush of 1849. The city has a noticeable amount of stunning and historic Spanish architecture.
Corte Madera is Marin County's premier outdoor shopping destination. The town offers two separate outdoor shopping districts: The Town Center and The Village at Corte Madera. At both locations, you will find plenty of independent restaurants and boutique shops.
Since Corte Madera shares the same school district as Larkspur, you'll find that they hold identical superb ratings.
Mill Valley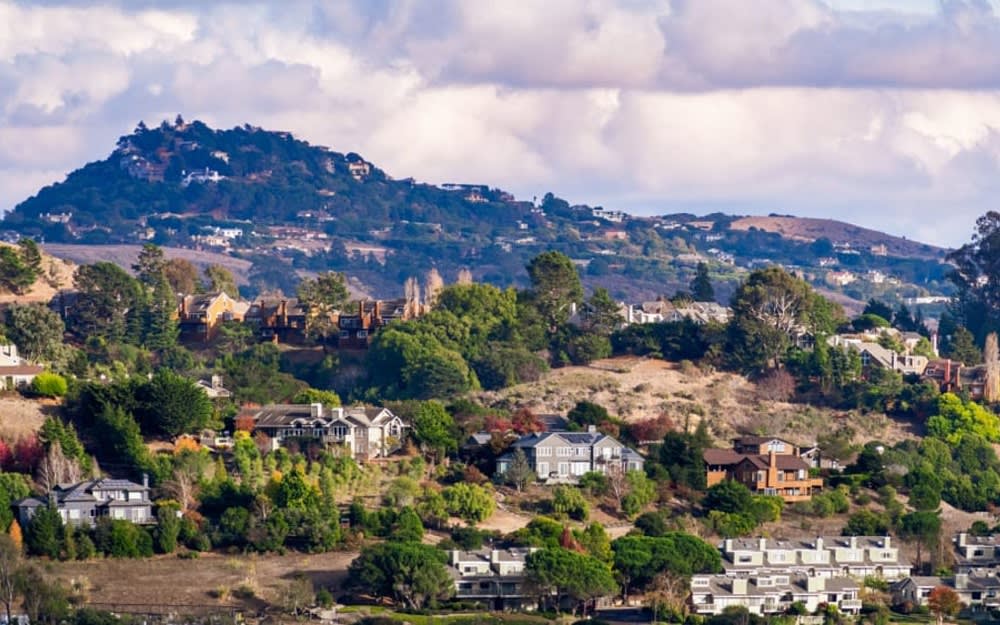 Photo Courtesy of Mentors Moving & Storage
Mill Valley is nestled below Mount Tamalpais and surrounded by beautiful outdoor areas. It also has a small population of about 15,000. Its downtown area is reminiscent of a European village with walkable areas, such as Lytton Square which boasts plenty of cafes, restaurants, and boutique shops to keep you entertained.
While all of Marin County has wonderful access to the great outdoors, Mill Valley may be the best in this respect. It is located directly next to the Muir Woods National Monument, one of the few old-growth redwood forests in the world. The forest attracts international tourists who want to take in the spectacular beauty of towering redwood trees. The park is so popular that reservations are required for parking spots or to get a spot on the shuttle bus.
The Mill Valley Elementary School District governs the local elementary and middle schools. It holds an A- rating, which is still fantastic. The school has high marks regarding the quality of academics and teachers. Local Tamalpais High School is governed by a separate school district, but holds an A+ rating and is ranked as the second-best public high school in all of Marin County.
Greenbrae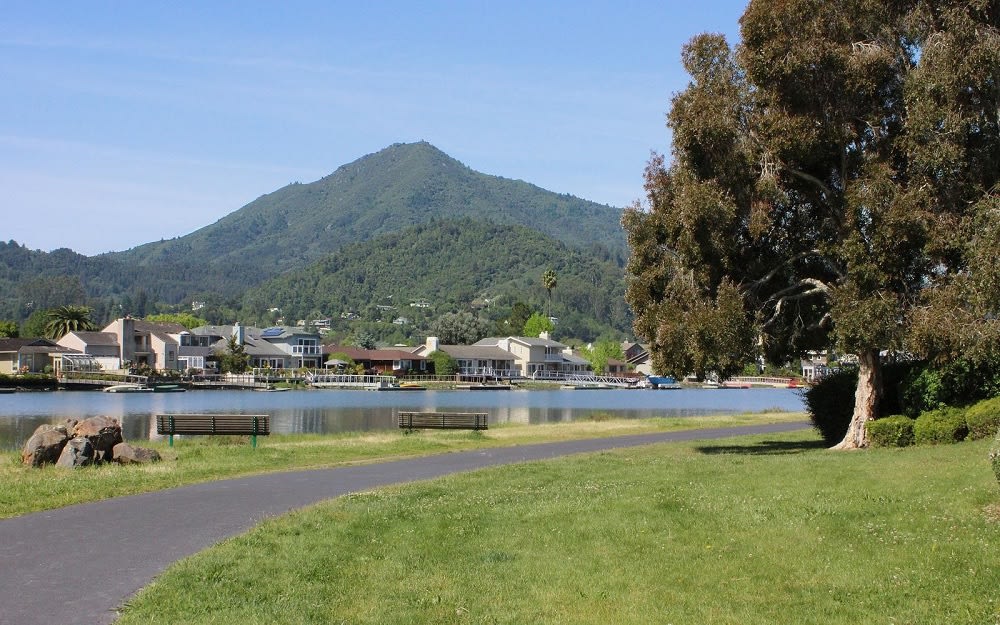 Greenbrae is located directly on the Corte Madera Creek as it meets the San Francisco Bay. While it's a further drive to downtown San Francisco, ferry options are more accessible due to Greenbrae's location. The ferry into the city only takes 40 minutes and is never delayed by traffic. Unlike most of the other cities on this list, Greenbrae does provide some waterfront properties.
Greenbrae is also small in terms of population, with only about 15,000 permanent residents. Additionally, Greenbrae seems newer and has less historic architecture. With the exception of a few dairy farms and kilns, much of the city was built after the 1940s. Greenbrae's shopping district is anchored around the Bon Air Center, where there are plenty of restaurants and shops to choose from.
Greenbrae doesn't have its own school district and instead relies on the neighboring Kentfield School District. The Kentfield school district manages students K-8 and has an A rating from Niche. High school students attend the aforementioned Redwood High School in Larkspur, which has an A+ rating.
Kentfield
Kentfield and Greenbrae are often considered twins. However, there are subtle differences between the two. For starters, Kentfield has about half the population with only 7,000 residents. Additionally, Kentfield has easy access to the Baltimore Canyon Preserve. The Preserve covers 193 acres of thick forests, creeks, and waterfalls. While the preserve does have impressive 1,000-year-old redwood trees, its real claim to fame is the Dawn Falls waterfall. There is a trailhead of the same name that will guide you to the best view of the waterfall.
Kentfield is also home to the famous
Woodlands Market
. The market prides itself on being "more than just a grocery store" by carrying as many local products as possible. This includes carrying locally farmed produce, which ensures that its fruits and veggies will be tastier than what you may find at chain grocery stores. Kentfield has more accessible healthcare than other towns in Marin County, as it is home to the Marin Health Medical Center.
Kentfield offers the identical K-12 education as Greenbrae, given that the two towns share the same school district. It's also home to private college prep high school Marin Catholic. Additionally located within Kentfield is the College of Marin. If your high school student is eligible for advanced classes, chances are they will take them there.
Tiburon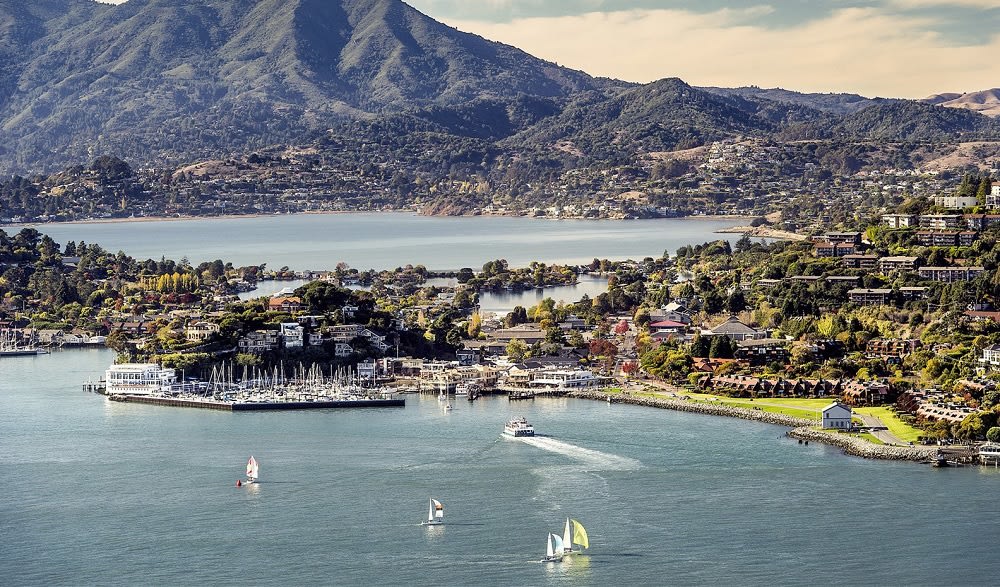 Photo Courtesy of Town of Tiburon
Tiburon is located on the peninsula of the same name. Being on a peninsula, Tiburon offers real estate opportunities for waterfront properties and homes with excellent views of San Francisco Bay. Only 9,000 residents live in Tiburon year-round. It also has a ferry port that can take you to the city or the neighboring Angel Island.
While the other towns on this list provide excellent hiking opportunities, Tiburon is better suited for those who enjoy their time on the water. Boating, sailing, and fishing are all very popular hobbies amongst residents.
Reed Union Elementary School District serves Tiburon and neighboring Belvedere. The district holds an A grade from Niche and provides a 17:1 teacher to student ratio. After middle school, Tiburon students attend Redwood High School.
Hiring a Marin County real estate agent
Whichever
Marin County town is the best for you
, partnering with the right realtor can make all the difference in finding your next home. Eric Schmitt was born and raised in Marin County and has expert knowledge of the whole area. Whether you're looking for Larkspur condos for sale or for Corte Madera luxury homes, Eric has you covered.
Feel free to
contact us
today to start discussing your real estate goals in Marin County. Be sure to check out
our blog
for the latest happenings in Marin.