In the town of Corte Madera, you'll find numerous ways to enjoy the beautiful water surrounding the area. Whether it's getting in touch with Mother Nature through the natural watersheds and marshlands nearby, taking a boat cruise to admire stunning views of the bay, or participating in a variety of watersports, you'll have every chance to appreciate the water in this small, quaint town
Enjoy Mother Nature's beauty at the Corte Madera Creek Watershed
Covering the entire southeastern locale of Marin County, the
Corte Madera Creek Watershed
surrounds many of the neighboring towns, including Corte Madera itself, and includes nearby creeks like Sleepy Hollow Creek, Bothin Creek, and Deer Park Creek. Whether you're a local resident or visitor, head over to the watershed and enjoy its streams, marshes, and estuaries. If you're a wildlife lover, the water is teeming with protected fish species like the native steelhead trout and three-spined stickleback as well as other animals that live near its shore. Take a walk down to one of the watershed's many bubbling streams or creeks and see if you can catch a glimpse of the indigenous fish that live here. If you're searching for a place to hike with beautiful views, look no further than this stretch of land and water. There are a variety of trails, some of which are strenuous paths that hike up steep faces, making it perfect for those who want a beautiful view of the water as well as a challenge. Most of these paths culminate at a summit, showing off gorgeous views of the meandering streams below and incredible sights of the San Francisco Bay and Golden Gate Bridge from afar.
View wildlife at the Corte Madera Marsh Ecological Reserve
Within Corte Madera is a coastal salt marsh right at your fingertips. At the
Corte Madera Marsh Ecological Reserve
, you'll find a 620-acre haven full of calm waters, vegetation, and avian inhabitants. Take advantage of the reserve's biking paths and meander around the marsh, enjoying stunning views of subtidal mudflats and open water as you ride. Several smaller trails branch off from the main path, some of which are dead-ends that take you up to the shores of the San Francisco Bay, where you can take a break and enjoy views of the water as ferries and boats pass by. If you're not up for biking, take a scenic stroll and look for the abundance of wildlife brimming here. You'll find various types of flora nestled close to the water, including cordgrass, saltgrass, marsh rosemary, and coyote bush. You may even get lucky and see the numerous animal species that have made these marshes their home. Blue herons and egrets are often found flying over the still, marsh waters while small rodents scamper across thick vegetation. Bring your camera and snap a picture of the exotic shrub species scattered along the marsh shores or wait until dawn or dusk to capture a stunning photograph of the sky's bright, vivid colors reflecting off of the water.
Take a boat cruise on the San Francisco Bay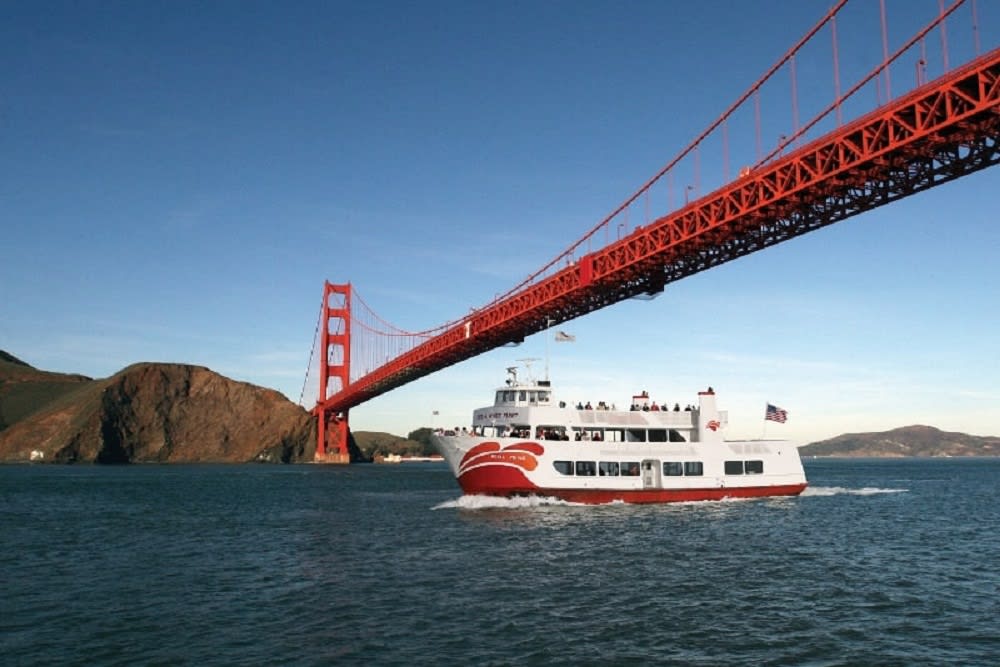 Credit: Tour Scanner


Because Corte Madera and its neighboring towns are nestled up against the bay, you'll never have to look far to find a boat charter or cruise ready to take you onto the water. Enjoy the beautiful scenery as you float along the bay on your public tour or private charter while taking in sights of San Francisco, including the iconic Golden Gate Bridge,
Alcatraz Island
, and the quaint cities and towns nestled up to the shoreline, like Paradise Cay and San Quentin. As you wander through the San Francisco Bay, take a moment to look for bottlenose dolphins or harbor seals, enjoy a meal and drink, or simply close your eyes and relax as you listen to small waves lapping against the side of the boat.
Kayak or canoe the Corte Madera Creek
Corte Madera Creek has exceptional views of nearby Mt. Tamalpais and stunning landscapes, so it's no surprise that locals and visitors love to grab a kayak or canoe and head to this destination for a day on the water. The creek's calm waters are perfect for kayakers and canoers of any ability and experience, so there's no need to fret if you're new to this recreational pastime. Put your kayak or canoe in at Higgins Landing, a town-owned boathouse and dock, or if
you're looking at homes for sale
in Corte Madera, consider one that sits next to the Corte Madera Creek for an up-close-and-personal living experience. Enjoy the 2.5-mile trek for a relaxing afternoon with family and friends while looking at a variety of flora and fauna as you meander along the stream. Be sure to pack a picnic lunch so you can row over to
Piper Park
in nearby Larkspur and enjoy it on their dock. Kayak and canoe rentals can be purchased at stores like
Outback Adventures
in nearby cities.
Take a trip to Ring Mountain Preserve for beautiful views of the San Francisco Bay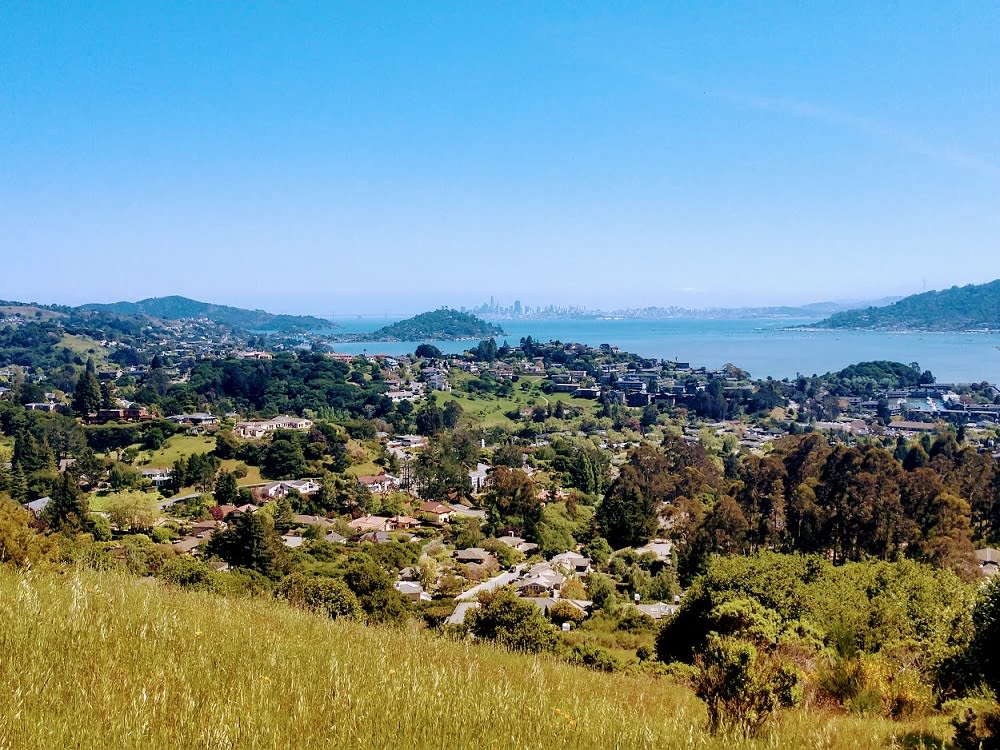 Credit: Adventures in Southern California


For beautiful, panoramic views of the San Francisco Bay, head over to
Ring Mountain Preserve
, a 367-acre stretch of land complete with a knoll sitting atop the Tiburon Peninsula. Winding trails twist through the preserve and lead to the peak of the loop, where you'll be rewarded with spectacular sights of the San Rafael and Bay Bridges as well as magnificent views of the bay. You can bike, hike, or horseback ride up the trails leading to this site, but be sure to bring a blanket and lunch with you. Enjoy a picnic while you watch yachts, ferries, and sailboats drift across the scenic waters. Finish your day with a stunning sunset as you soak in the beauty of the water below a vivid, picture-perfect sky.
Go fishing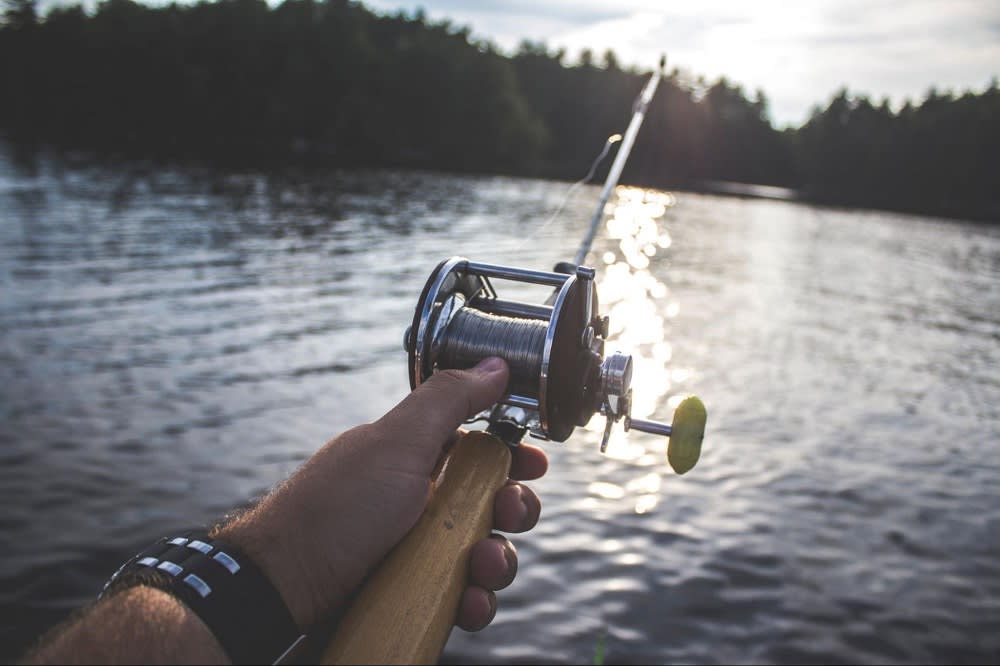 There's nothing like sitting back and waiting for a fish to bite, but there's something special about fishing from the bay. Grab your fishing pole and head over to one of the many piers close to Corte Madera, or hop on a fishing charter for a half or full-day experience. Pack breakfast, lunch, and dinner and spend the whole day catching the various fish species that live in San Francisco Bay waters. Salmon, rockfish, and sturgeon are just some of the fish you may find at the other end of your pole. Check out nearby
Lucky Six Sportfishing
for single passenger or charter trips on the bay.
Enjoy the day at Corte Madera Shorebird Marsh Wildlife Sanctuary
Winding along the east shoreline of Corte Madera is the Corte Madera Shorebird Marsh Wildlife Sanctuary, a sprawling, open marshland complete with walking and cycling paths along the outer perimeter. Get in touch with nature as you walk along its trails, admiring the water and delicate, marsh ecosystem. This marsh isn't far from major shopping centers and the hustle and bustle of the town, but you'd never know it by its beauty and peaceful ambiance. Here, you'll find a variety of wildlife, including a wide array of birds, so bring your camera or journal to log this incredible experience.
Try your hand at various water sports and recreational activities on the San Francisco Bay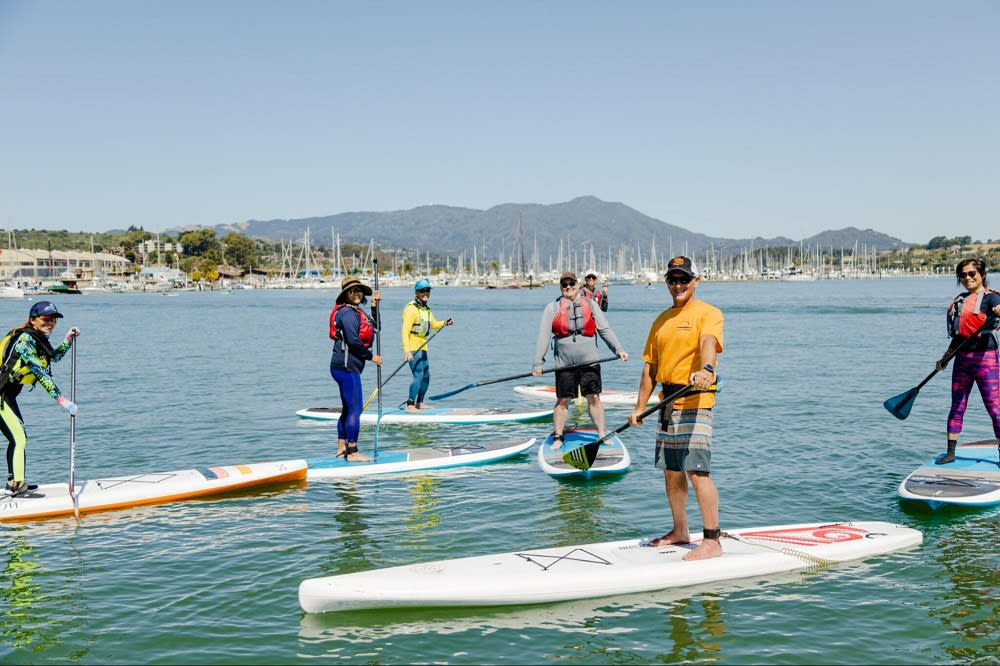 Credit: Sea Trek


San Francisco Bay waters stay pretty cool year-round, but that doesn't stop locals and visitors from getting on the water—and it shouldn't deter you either! Windsurfing and kitesurfing are prime recreational activities on a day where the waves are choppy, making for an exhilarating water experience that you won't forget. With steady breezes that enter the bay all year-long, these heart-pounding sports are becoming increasingly popular. You can schedule a lesson with an instructor at
101 Sports
or purchase a rental. If you're looking for an activity on the water without the extreme thrill that windsurfing or kitesurfing provide, consider stand-up paddleboarding or a sea kayak rental at
Sea Trek Kayak and Stand Up Paddle Board Center
, located in neighboring Sausalito. Sailboating is another popular water pastime that provides a unique, up-close experience. Feel cool mist from the waves hitting your cheeks as you drift across the bay and admire the scenery.
Live in Corte Madera
The best way to enjoy the beautiful water in Corte Madera is to live there. If you're a resident already, you have easy access to natural marshlands, a sprawling watershed, and the famous San Francisco Bay. It doesn't get much better than that.
Are you looking at
homes or condos for sale
in Corte Madera? This bayside town boasts wonderful views of the San Francisco Bay and the natural creeks and marshlands that run through the area, making it the perfect place to call home for singles, couples, and families alike. Don't hesitate to contact highly-recommended real estate agent
Eric Schmitt
for a smooth, professional home buying experience that will have a lasting effect for years to come.