This curated list of cozy coffee shops with incredible menus less than thirty minutes away from Larkspur makes this small bay town perfect for all coffee lovers.
Fox & Kit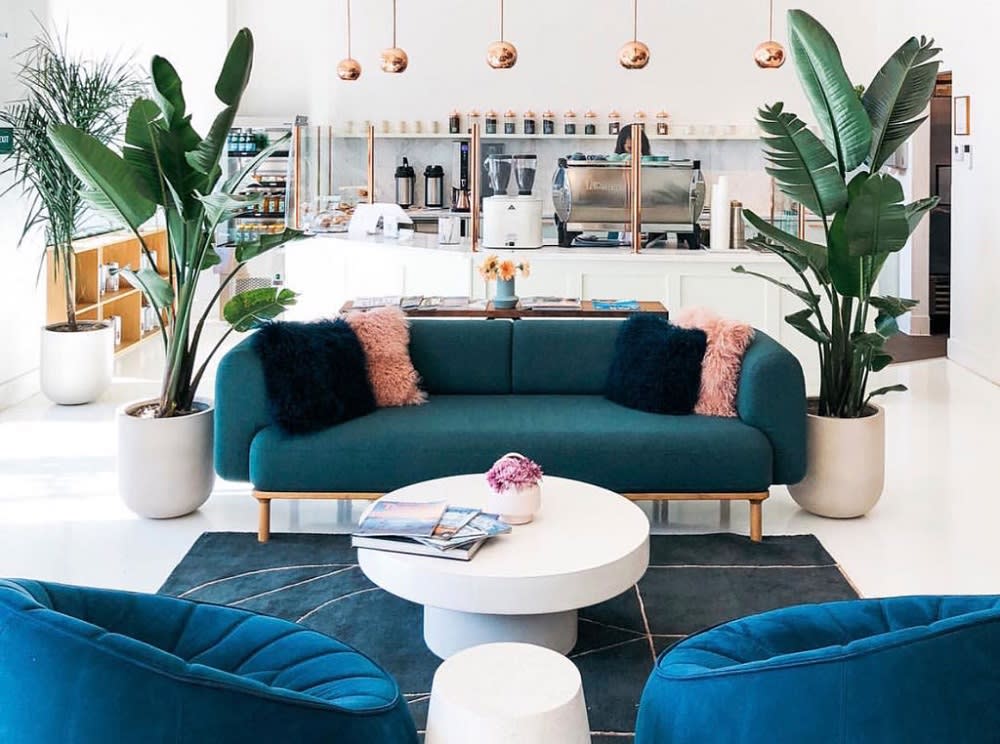 Located just ten minutes away from the heart of Larkspur is
Fox & Kit
, a coffee "haus" with a unique twist. Its modern exterior and large windows complement eye-catching and inviting interiors, immediately drawing the attention of shoppers on the street. Along the wall, you'll find several small tables for sipping coffee on a warm, sunny day. It's a quaint setup, but the real fun is inside. As soon as you step through the doors, you're welcomed with a bright and modern atmosphere. Inspired by the coffee shops the owners visited throughout the world, they wanted to pay tribute to these encounters with Fox & Kit, a small shop with a smorgasbord of various coffee cultures wrapped into one unique experience. Contemporary and traditional furniture in earthy tones complements the rose gold accents along the front display of the shop, making for a clean and fresh feel. Here, you'll find a variety of seating options like a modernized picnic table, plush chairs, natural wood bar stools, and hanging rattan chairs, but the seating options aren't what makes this coffee shop stand out.
Fox & Kit isn't just a coffee shop—it's a playhouse. Yes, you heard us right! This shop has a playground attached to its main area for coffee-lovers with children so that every person—regardless of age—can enjoy themselves here. Grab an iced or hot drink from the shop's ethically-sourced menu, which boasts a variety of hand-crafted beverages, including lattes, espressos, decaf drip coffee, classic Vienna coffeehouse favorite einspänner, and more. If you're not interested in a cup of coffee, there's an assortment of teas available that are sure to impress. After you've grabbed a drink or one of many food options on the
menu
, take your family to the shop's state-of-the-art playhouse. Inside, you'll find a modern dreamworld with an impressive design that focuses on creative play. The playground boasts a climbing wall, a reading corner, a grassy hill complete with quality terrain, an area for costume dress-up, wooden play structures, illuminated pathways, and a cave that incorporates the five senses. Because of its modern atmosphere, exquisitely curated menu, and unique playhouse, Fox & Kit is a popular coffee destination that will be here for years to come.
Equator Coffees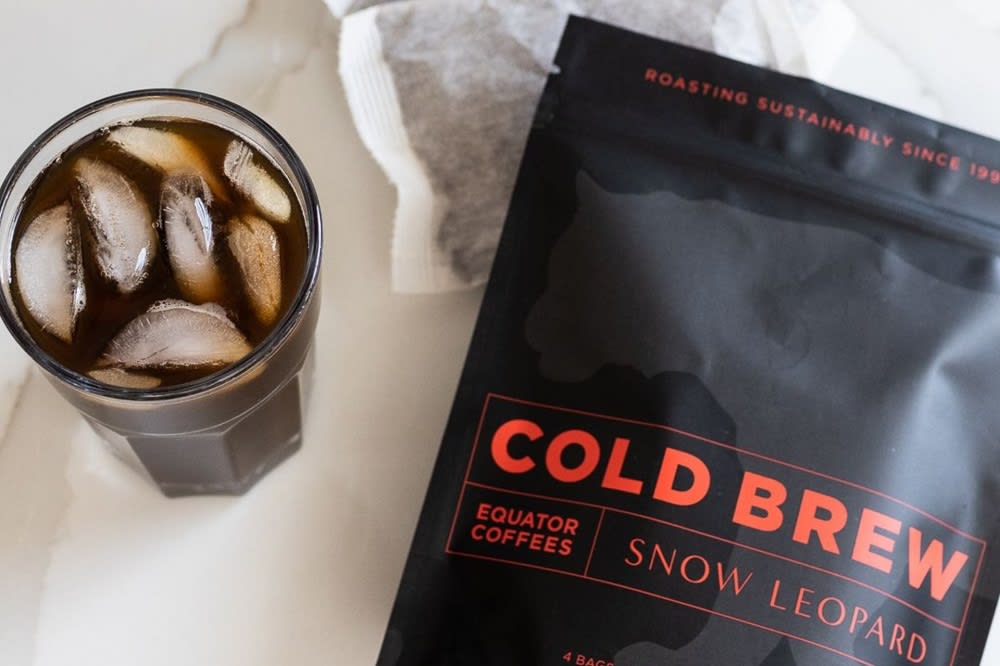 Located in Downtown Larkspur is
Equator Coffees
, one location of a small, woman-owned coffeehouse company that centers on sustainability and quality. You don't have to drive far to reach this location, and you'll be pleasantly surprised at the experience that awaits you. There's an outside patio area for those who want to enjoy the fresh air while drinking a cup of coffee or tea. Inside, you'll find a quaint, welcoming ambiance with several bar tables and stools, a merchandise wall complete with apparel, coffee equipment, bags of coffee grounds to buy, and a fridge with various foods and drinks to choose from. At this particular location in the heart of Larkspur, Equator Coffees pays homage to the bicyclists who helped adapt road bikes to navigate nearby
Mount Tamalpais
' rugged terrains. While waiting for your coffee, take a peek at the handmade topographical map furnishing the walls of the shop and look for Mount Tamalpais' most beloved trails and other noteworthy locations along the peak. Various photographs of cyclists line the walls with bicycles hung for decoration, which only elevates the unique feel of this shop.
As if the shop isn't cool enough already, the
menu
sports a wide array of customer favorites and lesser-known gems. Take your pick from hot and iced coffees like mochas, lattes, and cappuccinos. If you want to try something different, consider an iced habibi, chocolate shakerato, or café au lait. Hungry? No worries. Equator Coffees has breakfast sandwiches, chocolate, and a wide array of baked goods like muffins, specialty bread, croissants, cookies, and other pastry items for you to enjoy. If you're searching for a place to grab a cup of delicious coffee and learn a piece of history all within Larkspur, look no further than Equator Coffees.
Kamson Coffee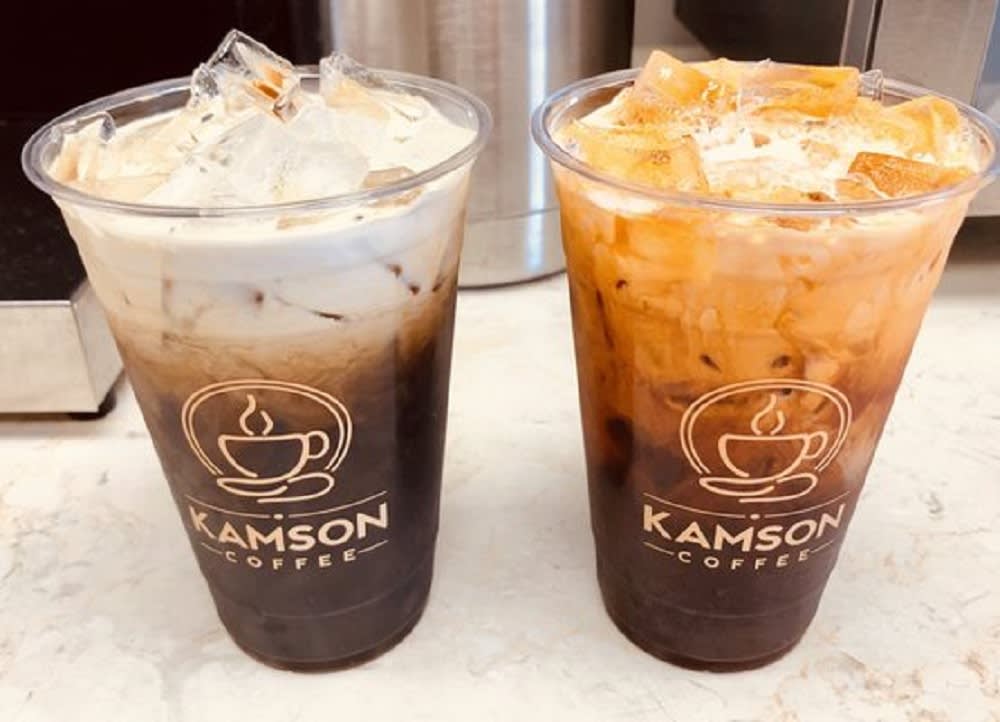 A twelve-minute drive from the heart of Larkspur is
Kamson Coffee
, a coffee shop on a mission. This particular coffee joint provides pure arabica coffees obtained straight from villages scattered all over Northern Thailand. By creating a relationship with local growers, Kamson Coffee ensures high-quality coffee through sustainable practices. Here, coffee is roasted to perfection to create a drinking experience full of flavor. Step inside the shop and find yourself in a modernized design with an accent wall, rich color tones, and a sophisticated feel. The astounding beverage menu has a wide range of options, including espressos, frappes, smoothies, and signature coffees like authentic Thai iced coffee and the iconic charcoal mocha frappe, a drink made using real coal-charred coconut shells and black onyx cocoa. There are several tables to sit at while you wait for your coffee to be brewed. If you're hungry, enjoy a bite to eat from the shop's assortment of food options. Omelets, bagels, and sandwiches are perfect for a quick breakfast while grabbing your coffee, but don't forget to check out the numerous coffee bag options available for purchase before you leave. At Kamson Coffee, you can enjoy some of the finest coffee within minutes of Larkspur.
Pink Owl Coffee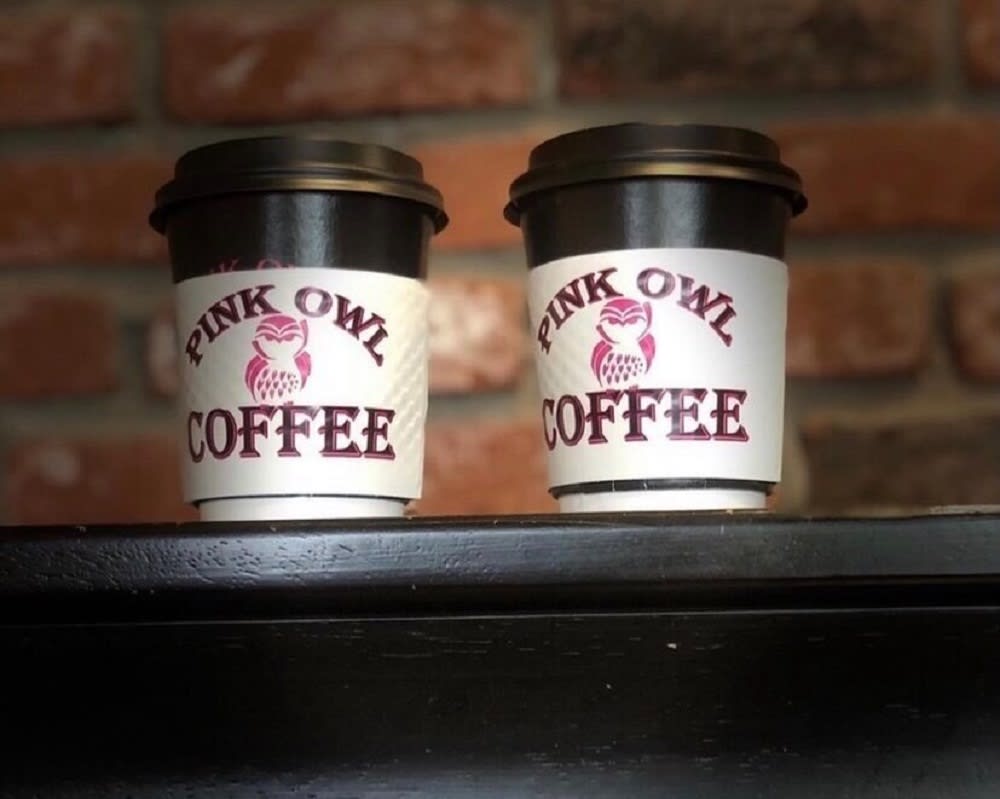 Less than fifteen minutes from Downtown Larkspur is
Pink Owl Coffee
. This local gem is more than just your average coffee shop. This pink-inspired destination for coffee lovers got its name from one of its co-owners, a breast cancer survivor. With the intent to honor and support women battling their own breast cancer journeys, the shop hopes to one day donate 10% of all its yearly profits to breast cancer research. Pink Owl Coffee boasts a diverse selection of organic, fair-trade coffees including Expresso, Columbia, Costa Rica, Kona, Brazil, and many others. Inside, you'll experience an upscale, modern feel. Plush seating options, dark and earthy tones with pops of pink, a fireplace, and a beautiful hand-painted wall mural are just some of the things you'll find here. If you love shopping, you'll be happy to see merchandise available in the store, offering items like apparel, coffee cups, grinders, home accents, tea steepers, and more. Pink Owl Coffee has a stunning
menu
of classic coffee favorites like vanilla and lavender oat milk lattes, oat milk macchiatos, and seasonal favorites like the ever-famous pumpkin spice latte and eggnog white mocha. If you're not feeling a cup of coffee, there are plenty of tea and other beverage options, or you can check out the shop's scrumptious food and pastry selection. Breakfast burritos, sandwiches, wraps, muffins, yogurt, croissants, and coffee cake are just some of the items on the menu! A quick drive from your
residence
in Larkspur will give you a modern and delicious coffee experience that also supports a worthy cause, so make sure to add Pink Owl Coffee to your list when choosing your next cup of joe.
Emporio Rulli
Nestled in downtown Larkspur,
Emporio Rulli
is a charming cafe with a can't-miss coffee selection. With all the panache of an Italian bakery but found at the heart of our community, Emporio Rulli brings unbeatable flavors to the table with every creation. Created by Gary and Jeannie Rulli, this one-of-a-kind cafe is a local favorite. Pair of any of their baked goods, like a flaky croissant or an Italian cream pie, with a cup of coffee, and you've got a delectable combination that keeps guests coming back for seconds.
Are you ready to purchase the home of your dreams? Thinking of buying a
single-family home
or condo in Larkspur, CA? Look no further than highly-qualified real estate agent
Eric Schmitt
for an effortless home buying experience.